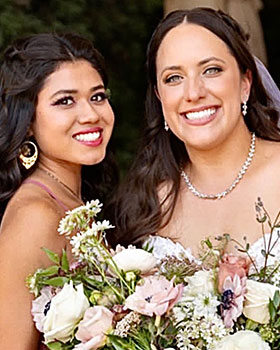 "When I saw this photo, my first thought was 'Perfect smiles by Willes Ortho! Thank you for all you've done for our daughters!' Before they got braces, I didn't think they needed them, but Dr. Willes taught us how it's about much more than just the front teeth looking straight. And he was right! When the braces came off, I was amazed to see the difference in how beautiful each of their smiles and entire faces looked! Dr. Willes did a wonderful job. They both look gorgeous!"
~Monica
Dr. Willes specializes in "Orthodontics and Dentofacial Orthopedics." While most people have heard of orthodontics, many aren't as sure about the dentofacial orthopedics aspect, but it's a critical part of his training.<
While "orthodontics" focuses on the management of tooth movement, "dentofacial orthopedics" involves the guidance of facial growth and development, which occurs largely during childhood.
Being trained in both areas, Dr. Willes is able to diagnose any misalignments in the teeth and jaw as well as the facial structure, and can recommend a treatment plan that integrates both orthodontic and dentofacial orthopedic modalities to create the best dental health and facial aesthetic possible.
This dual training is important because one risk for those doing orthodontic procedures without specific dentofacial training is that the important impact to overall appearance could be misunderstood or overlooked. In other words, orthodontics improperly done can sometimes straighten teeth while actually making faces look less attractive than before treatment. Not an outcome anyone wants at the end of their orthodontic journey. Happily for his patients, Dr. Willes employs all his training, tools and experience to ensure an excellent comprehensive completion.
Sometimes, orthopedic treatment may precede conventional braces, but often the two are used at the same time. So if your child gets braces and an expander, he or she is actually undergoing orthodontics and dentofacial orthopedics.
"My goal is to get the best results we possibly can in every way—the prettiest smiles, the best facial esthetics, and the healthiest bites possible. Although people often don't realize it, orthodontics impacts not only teeth but can transform faces. Jaw alignment, position of the teeth within the jaws, as well as nose, lip and chin posture can all be impacted. My years of specialty training and experience allow me to design treatment plans to not only straighten teeth but also enhance and improve overall facial attractiveness." ~ Dr. Willes