What makes us awesome?! That's a great question! Scroll down or click on the topics below to discover just a few fun reasons that make Dr. Willes and the entire Willes Ortho team unique.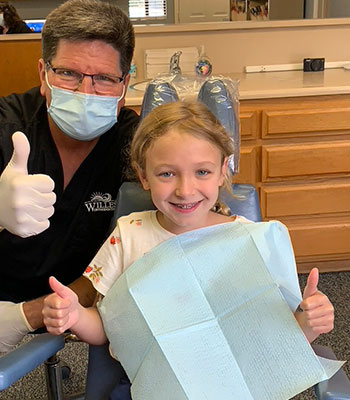 ---
Dr. Willes's work is also his play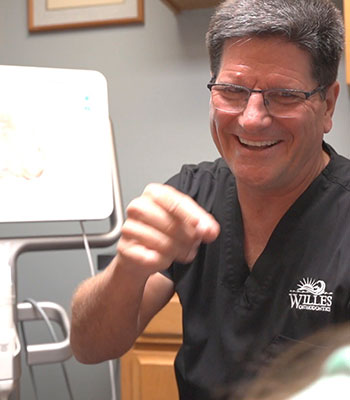 A cool fact is how much Dr. Willes genuinely LOVES what he does. He thoroughly enjoys his patients and the challenge of giving them the best, most healthy, beautiful smiles possible. So for him, his "work" is also his joy! In fact, he has so much fun, that whenever there is a long holiday or vacation break, he actually misses working, and can't wait to get back to taking care of his patients. It's pretty great that he feels that way about his chosen career.
Dr. Willes put braces on himself in ortho school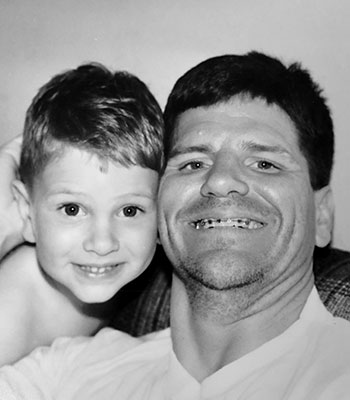 Another fun fact is that Dr. Willes never needed braces as a kid, so when he was in his ortho program at UCLA, he put braces on himself just to be sure he would know what his patients would be going through. During his second year, Dr. Willes moved his teeth out of position, and then back again—and very much acknowledges how that experience has made him an even better, more compassionate orthodontist.
Dr. Willes was already using orthodontic skills when he was a kid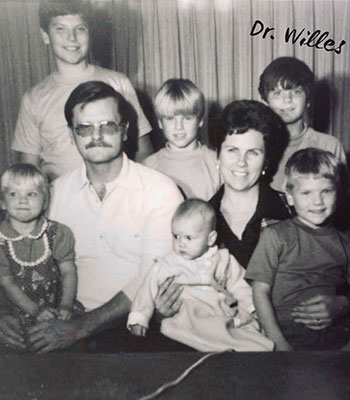 When he was in junior high, young Mike would sit on the floor in his garage with pliers, and bend coat hangers into names, funny phrases, and designs for his family, never realizing that someday wire-bending skills would be essential to his livelihood. Dr. Willes's expertise at bending wires into precisely calculated positions is a critical part of what helps him create such ideal smiles.
He also enjoys working with his hands in other ways. He taught himself to play the guitar as an adult, and is now guitarist in a local band—which has been another challenging and fun way for him to use his hands. (And... we might get in trouble for telling you this... but many years ago, he also learned to knit and made a scarf for his father-in-law.) PLUS, he enjoys shaping and glassing his own surfboards—so as you can tell, his talented hands are never idle. Oh, and you should ask him to juggle for you next time you're in the office ; ).
Dr. Willes played college baseball and led the nation in homeruns. But FOOTBALL, too?!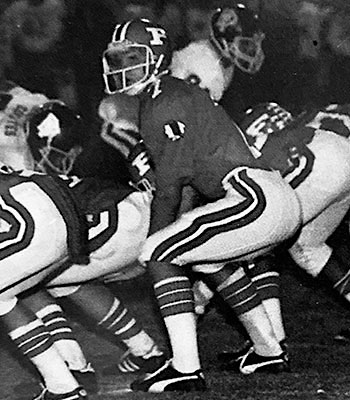 Dr. Willes was a successful D-1 college baseball player at Brigham Young University and led the nation in home runs two years in a row. He also played football in high school, and for seven years held the CIF single game passing record! These tidbits may seem unrelated to orthodontics, but they are fun examples of how Dr. Willes focuses, works hard, and strives to be the best at whatever he does. (Bonus fact: Dr. Willes's daughter and three sons all played lacrosse at CHS as their chosen sport; then three went on to play at BYU.)
Dr. Willes is a perfectionist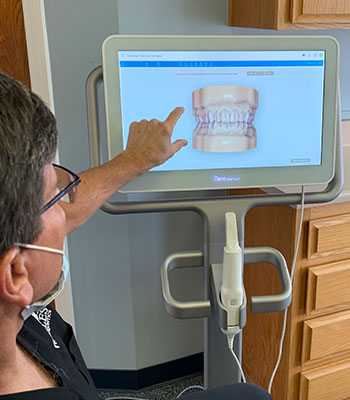 A perfectionist is definitely the kind of orthodontist you want! But that also means that sometimes the hardest part of his job is helping his patients understand that excellent treatment goes beyond just making sure those front few pearly whites look great, and that even though the front teeth start moving into place surprisingly soon, the important work for proper function is still to come. He strives to ensure that every aspect of a patient's orthodontic treatment leads to the healthiest, most excellent results, including smile, bite, facial form, etc. He is even picky with the Invisalign algorithms and knows how to refine those plans to make them even more perfect. (Afterall, that's why he chose to spend an extra three years after dental school to study orthodontics. It is a comprehensive science that involves much, much more than just a pretty smile.)
Dr. Willes is a great teacher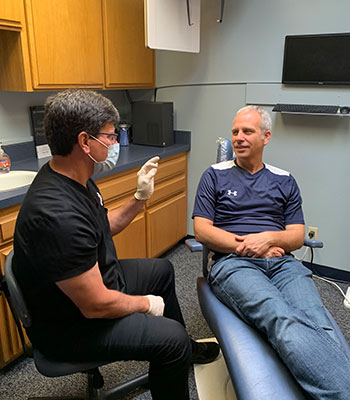 He is also an extremely patient person, and his goal has always been to take whatever time is needed to answer patient and/or parent questions, and explain procedures and the reasons and mechanics behind treatment. Dr. Willes recognizes that a beautiful, healthy smile is just one component of the service he provides, and that taking time to communicate with his patients is also another essential aspect. In fact, he consistently emphasizes with the team that goal of Willes Ortho is first and foremost "to SERVE our patients."
The whole team at Willes Orthodontics loves what they do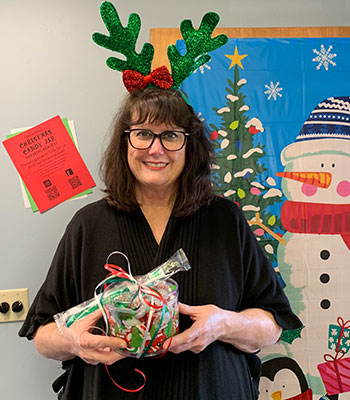 The best "what-makes-us-awesome" fact is that the whole team at Willes Ortho also shares these goals and loves what they do—and strives to create happy smiles, not just at the end of treatment, but with every interaction! And they also genuinely enjoy working with each other and being part of a team that is always willing to step up and help one other. That's a pretty unusual and awesome thing in today's world, and Dr. Willes is grateful for them!
We have fun with our patients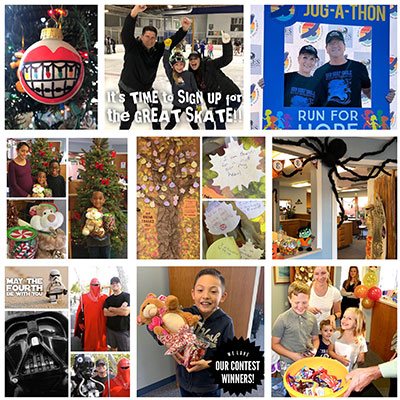 Orthodontists are lucky that we get to see our patients every 6 or 8 weeks, which means we really get to know you—AND get to have fun with you! Whether it's a silly holiday jar guessing game or reserving the IceTown rink for a Great Skate Patient Appreciation Party or hosting our annual ornament decorating contest or supporting local schools, we are always looking for ways to celebrate life with you!
We strive to do that one-on-one, as well, so if you have some happy event or exciting news, please tell us, so we can share those smile-filled moments with you, too!
Technology makes ortho extra awesome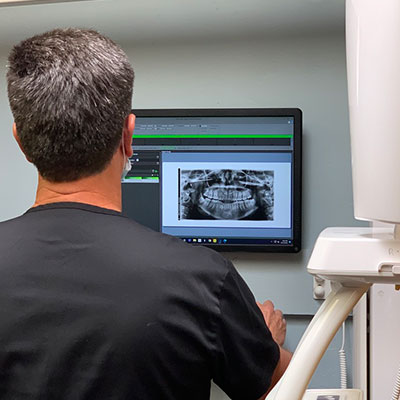 It's crazy to realize that some of the very first braces were discovered on Egyptian mummies. Thankfully technology has come a long way since then! Willes Ortho patients now benefit from the accuracy and comfort of Itero intraoral 3-D scans instead of gooey, un-fun impressions. And 3-D metal printed expanders are fabricated so precisely that there is rarely a need for separators because these appliances now fit so ingeniously. Moving teeth with Invisalign algorithms, coupled with Dr. Willes's expertise in understanding the personalized case complexities that AI has not yet perfected, allow for amazing outcomes. Even modern orthodontic wires use technology invented by NASA for the space program. Plus chairside computers and secure digital electronic records facilitate seamless communication between dentists and Dr. Willes, and provide patients private access to their own dental records and financial information. And low-dose digital x-rays are a win for everyone. So... maybe we're tech nerds, but we think these advancements are awesome.
We want you to know the "real" us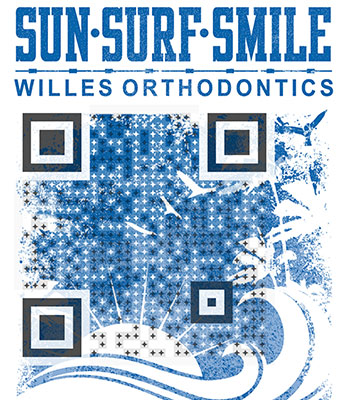 As you can hopefully tell, we want you to know and be part of the "real" us... and see why we "really" love what we do... and why we want to SERVE you, too! That's why we filled this website with authentic, in-the-moment photos of our actual patients, families, and friends. We're grateful to our patients who have shared their photos and let us snap their pics as we've gone about our daily interactions with them. (And if you become a patient and want to share your smile, too, please send us a pic! We would love that!!)
What we most want from this section is for you to want to come in and check us out and learn what "makes us awesome" FOR YOU!! (By the way, our ortho consultations are always free!)